About Our School
Niigata Commercial High School is located in the center of Niigata City.
The Sea of Japan and the Shinano River, the longest river in Japan, are quite near to our school.
Our school dates back 138 years to the 16th year of the Meiji era (1883).
Currently about 1,008 students are studying and taking part in various club activities very hard, respecting our history of 133 years, carrying on our school spirit of

"enthusiasm", "sincerity","patience", and creating a new history.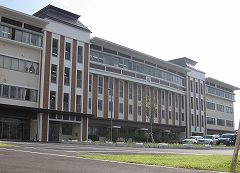 The number of graduates is more than 35,000 and our graduates have been active in many fields and are well regarded in the community.
In addition to our business course, our school has an international culture course, which was established in the 8th year of the Heisei era, and has aims to educate and produce internationally cultivated students.
Our international culture course was designated as SELHi(Super English Language High School)by the Ministry of Education, Science and Culture from the 16th to the 20th years of the Heisei era. We have been trying many activities and lessons in order to improve studentsf English abilities and have achieved good results.
Purpose of our school
Niigata Commercial High School has 4 main goals:

To educate a person who is sound both in mind and body and of marked individuality.
To enlighten a person who respects the character of others, loves justice, and has the necessary qualities to be a good member of society.
To educate a person who is internationally cultured and proficient in knowledge and has the skills required to work in the world of economy, trade, and industry. In addition, we help students enlarge their knowledge.

To educate a person of superior intellect and high moral character and with an international way of thinking.